Military Affairs by Atwater mentions
Thomas Munson
as well as others in Chapter XIV. Use your "Back Button" to return to this Site.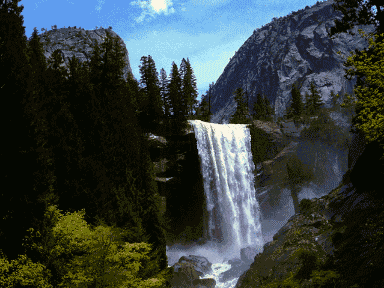 was born September 13, 1612 in Rattlesden,County Suffolk. He married Joanna who was born about 1611. Thomas died in 1685, more to follow...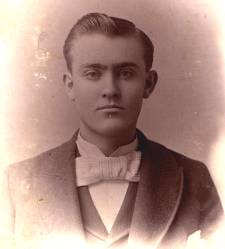 Eli Munson, probably taken late 1800s, about 1890. I purchased this photograph off the internet in order to keep it in the Munson Family. We also have Eli Munsons in our line.
If this is a direct descendant of yours I will be happy to send a copy of the photograph. Here are the clues. On the back it says Eli Munson, brother of Malinda Munson. On the front it gives the photo studio as J.M.Harkles, Union St. College Hill, Valparaiso, Indiana. ..Coming soon our own Munson Bible Pages of 1858

To visit the Thomas Munson Foundation Site just click on the Crest in the upper left corner of this page. To return to this page just use your back button.

The first appearance of Thomas Munson in America is recorded in Hartford, Connecticutt in 1637 as a member of the militia unit engaged in the Pequot Indian War. In 1639, he signed the Fundamental Agreement at ew Haven where he established his permanet home. His life and actions are well documened in the Munson Record Volume 1 and the Connecticut Colony records. All of the proceeding is taken from the Thomas Munson Foundation Pages.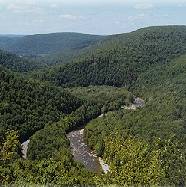 We have four wonderful women who are direct descendants of Thomas Munson. Noreen, Darlene, Dawn and Micki. There is a treasure of very old land abstracts. A treasure for us, not very valuable to anyone else. With the abstracts that cover over 200 years, Wills and Bible pages we have been able to construct quite a family history. One of the great surprises was to fin that we, all of us were cousins as well as husband, wife, daughter and cousin. All related to the Munson family and the Potter family. Both families signed the New Haven Agreement.

Our Munson line starting with the youngest generation. 1]Dawn Ann-Marie Hatton[DAR],2] Noreen Marie"Younglove" Hatton,3] Dorothy Ann "Younglove" Vice, 4]Gairey Younglove,5] Sarah J. Munson [ mrd. Nelson Franklyn Younglove],6] Henry Munson, 7]Joel C. Munson,8] Slyvanus Munson, 9]Stephen Munson,10] Reuben Munson,
11]WAITSTILL MUNSON[ our Clan], 12]Samuelle Munson,13] THOMAS MUNSON
1612-1685 who arrived aboard the "Abigail" in 1637 from England, buried New Haven Ct.
Also Darlene Ann "Vice" Griffin sister of Noreen above and cousin Micki, same generation.t.

Our Waitstill Munson Clan Line
ANCESTRAL line with the youngest generation first
back to Thomas MUNSON.

Noreen above mrd. Ernest A. Hatton descended from John Potter a first settler of New Haven also.
The Munson and Potter family married three times,
at least, and all the above are also cousins. Therefore the children are descended from two New Haven Families.





Ruth Miller Munson has prepared a wonderful list called " Did You Know That" . I'm going to mention a few of things on that list which is two pages. Thomas Munson landed in what is now Connecticut in 1637 as part of a party organized to found and permanently settle the town of Hartford in central Conneticut. Thomas served in a number of public offices in Ct. Colony and for his Militia service was permitted to buy land north of New Have which became the family plot. He later settled in New Haven and his house and land became the property of Yale University. His father was John; his mother Elizabeth; his grandfather was Richard; his grandmother Margery. He had four sisters and two brothers and he was a middle child. Thomas and his wife Joanna both have headstones in the Grove Street Cemetery in New Haven. Others buried there are Eli Whitney, Noah Webster and Charles Goodyear [ and many of the Ancient families of New Haven]. Thomas had three children; Elizabeth, Samuel and Hannah. The Thomas Munson Foundation Clans were devised by Myron Munso, who compiled the first two volumes of the Munson record, and were named after the great grandsons of Thomas. There are now 5 volumes of the Munson Record. In 2037 the record will be brought to date in preparation of the 400 th. anniversity Reunion.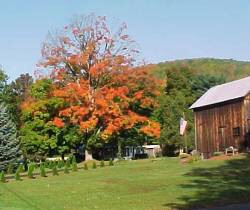 Please take time to sign our Munson Guest Book and ask any questions. xt.





Within a short time I will create a page showing the "original"New Haven Settlement. That page will be part of this Site.xt.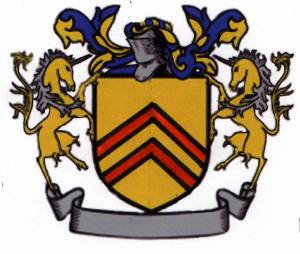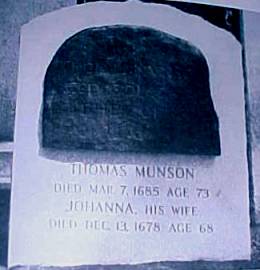 The Grave Site of Thomas Munson. Photograph taken by Sara Waskuch.
The original stone is set in the new. A brass plate on the back states,"By their Loving Descendants 350th. Anniversary Reunion Yale-New Haven, CT.

The Marker Reads:
Thomas Munson, Died Mar. 7, 1685 Age 73
Johanna, his wife Died Dec. 13, 1678 Age 68


Military Affairs by Atwater mentions
Thomas Munson
as well as others in Chapter XIV. Use your "Back Button" to return to this Site.